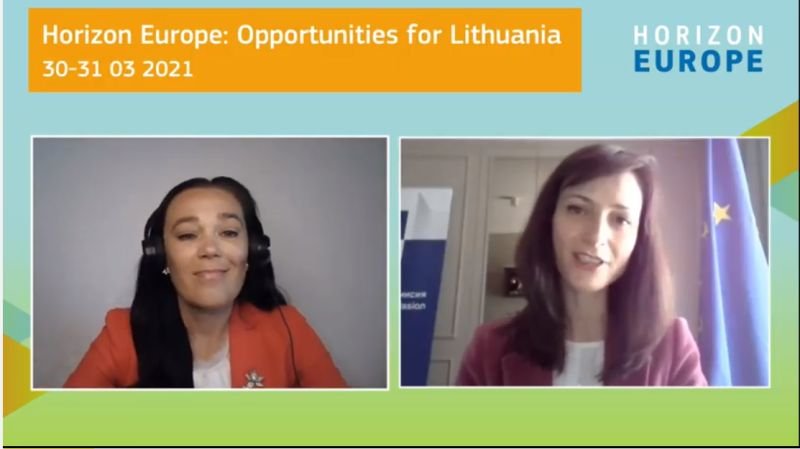 Discussing HEU launch with Mariya Gabriel, European Commissioner for Research, Innovation, Culture, Education and Youth
The world has changed dramatically since June 2018 when the European Commission has launched its proposal for Horizon Europe. Science and innovation are needed more than ever – we need to deal with "old" challenges such as structural development and climate change, and there are new challenges such as Covid-19. Horizon Europe (HEU) is Europe's response to pressing challenges, and a key instrument to see beyond the horizon. With the budget of 95 billion euros, it is the EU's most ambitious R&I framework programme ever, and the largest transnational programme of its kind worldwide. The European Commission has added a "moon shot" theme to the programme by laying out specific societal challenges known as "missions". This approach is designed to instill a sense of urgency, as well as inspiration in the belief that European and global cooperation can confront and solve global challenges. The successes of HEU predecessor programmes prove that it can be done. After all, the BioNTech's Covid-19 vaccine was made possible in part by sustained support from the fifth, sixth and seventh framework programmes!
On March 30th 2021, the online conference "Horizon Europe: opportunities for Lithuania" marked the launch of HEU in Lithuania. As a moderator I had a pleasure to discuss opportunities brought by HEU with Commissioner Mariya Gabriel, Jean-Eric Paquet, Director-General at DG Research and Innovation, European Commission, politicians and policy makers from the European Commission, Lithuania and other Members States. From all the diverse perspectives, I was able to distil five critical factors for success.
First, Europe (and Lithuania in particular) needs to overcome its innovation-productivity paradox.
Indeed, in today's global economy knowledge is like a currency, but we have to make it work for us. Europe is a powerhouse in disruptive science. The challenge is to bring these ideas to market and – more importantly – to scale them up. Innovation for impact is the combination of big new ideas multiplied by scale. We need mechanisms in place to ensure that research results are better exploited, and to enable the public private partnerships. One challenge is the risk aversion of private European investors with deep tech startups. The European Innovation Council (already named "the European unicors factory") is a key novelty of HEU that brings a new approach. I was pleased to hear from Jean-Eric Paquet and Prof. Mark Fergusson how EIC will make a difference, and how HEU is prepared to fight the biases against entrepreneurs from less known regions of the European Union.
Second, the next key step to increase the firepower of Horizon Europe lies in seeking alignment and synergies with other EU and national funding programmes.
Progress is needed on opening up potential synergies with the structural funds and the recovery budget, as well as other funding bodies. We need linkages from small ecosystem to larger ecosystems, so that we can create strong pipelines. Commissioner Mariya Gabriel highlighted, that Lithuania has been active in a development of the strategic missions for HEU. However, when we talk about the missions, it is necessary to look for the synergies with regional and cohesion funds, also environmental, industrial and skills policies, etc. Skills are a very important factor in achieving the goals of the missions. It is instrumental to equip young people with the necessary skills, to support our researchers, who can provide us with solutions for the different fields. It is the key factor for the successful implementation of the missions.
Third, reducing the bureaucracy (at both EU and national levels) is still very relevant, as it is a clear barrier for newcomers.
Maximum administrative simplification is urgently needed. HEU promises a few novelties up their sleeves, such as new model grant agreements.
Fourth, we need to up our game in strengthening national R&I capabilities, and be more consistent in implementing internationalisation of research (and education!) as a horizontal priority.
I think this is extremely important. A number of research studies have argued that successful participation in FPs depends on the size and excellence of national R&I systems. These findings may be interpreted through a prism of the Matthew effect. Early success of established centres of excellence in competitive R&I programmes leads to accumulation of comparative advantage (know-how, funding, talent, reputation, etc.) at a rate that increases or maintains the distance between "leaders" and "followers". This can explain the concentration of FP funding: for example, the top-500 organisations in the FP7 made up only 1.7% of successful participants, but received 60% of the total funding. Similarly, the top-3 organisations from Estonia, Latvia, Lithuania received over 10% of FP funding for their respective countries (Visionary Analytics, 2017).
Furthermore, the road to successfully securing funding from an EU sponsored framework programme has grown narrowing over the years. In FP7, the success rate for submitted proposals was roughly 22%. During Horizon 2020, that success rate has fallen to around 12%. Although the success rate of Lithuanian applicants is a bit higher than average (14%), it is still below the leading EU countries, and we still put more into the HEU's budget than we get out.
This implies that building of national R&I capabilities is needed before linking up to European networks – to create champions who command their positions in the networks, and to capture most value from HEU participation. This implies consistent national R&I funding, much needed structural reforms, as well as consistent promotion of national participation in HEU. Lithuania needs to significantly increase overall research funding and concentrate resources, improve the attractiveness of research careers by raising wage levels to the EU average, and develop open, transparent, competitive and excellence-driven public research systems (Visionary Analytics, 2017).
I was glad to hear from both Jurgita Šiugždinienė (Minister of Education and Science) and Aušrinė Armonaitė (Minister of Economy and Innovation) that Lithuania intends to boost the performance of the national R&I system by:
Consolidating research potential and strengthening the national centres of scientific excellence;
Increasing attractiveness of research careers by doubling the funding for research and innovation;
Launching the Horizon Acceleration Programme as part of the post-COVID economic recovery package, aiming to boost participation in the upcoming HEU and including a variety of measures.
Finally, intersectoral collaboration is extremely important for making Europe and HEU's efforts a success.
Horizon Europe is no more just a research programme for scientists (although sometimes still perceived as such). It should enable a much needed cultural shift in the way academia, regulators, industry, and other bodies collaborate together. The programme should be the vehicle for increased multi-stakeholder and cross-sectoral collaboration. The same shift is needed at the national level. We have to encourage all stakeholder in the innovation system – business innovators, NGOs, end users such as hospitals, police, municipalities and other services providers. Crucially, this means that:
National research programmes need to open up to a wider group of stakeholders.
All actors (including different ministries and funding bodies) need to collaborate better. For example, Jean-Eric Paquet praised Lithuania's remarkable achievement on ranking 4th in fintech world-wide. This is an outcome of key players (regulators, innovation actors in ecosystems, sustained structural investments) working together!
So, what does any of this have to do with football?
Several discussion participants, including Prof. Artūras Žukauskas, Member of the Parliament and Chair of the Committee on Education and Science, used the analogy of basketball, comparing participation in the HEU to Euroleague.
Well, I am myself a huge football fan. Having a little bit of Brazilian blood in my veins, and my family history forever intertwinned with Brazil, I am also a fan of Brazilian style football – Ginga. The word Ginga translates directly to 'sway'. This signifies the unique and creative style, a form of art almost, similar to capoeira or samba. The World will forever remember Garrincha and Pele's style of playing – they were some of the most creative players and the best dribblers in a few generations. In short – Brazilian style is very creative, and depends a lot on the character and performance of individual players.
But when you see a German football team coming, you see a machine. More importantly, you see a system behind the machine.
As a consequence of the failings at the turn of the millennium, German football was tipped on its head. It all began in the year 2000 when the German team failed to win a single match in Euros. The Germans realised that they could no longer solely depend on their hustle and hard work to flourish. They needed to adapt and adapt they did. When Jurgen Klinsmann took charge of the German team in the year 2004, German football went through a massive renovation and brilliant reinvention. Klinsmann's vision was to produce a team of fast passing attacking players that would dazzle the opponents with their flair. Soon, the entire nation, including little kids in the villages, was adhering to Klinsmann's new style of football. Not a single stone was left unturned in the quest for perfection. The country's passion for the game has spilled over to coaching too. Recent statistics indicate that there are more registered coaches in Germany (34,970) than in any country (England has just 2,769). With more full-time coaches employed and youth facilities given a major refurbishment, a new system and new philosophy has been built (Chapman, 2018).
The effectiveness of Klinsmann and Low's tactics are reflected in Germany's string of impressive and consistent performances in the 2006 World Cup, the 2008 Euros, 2010 World Cup and the 2012 Euros. Their triumph in the 2014 FIFA World Cup Brazil was a testament to their brilliant strategy. Germany didn't have to rely on one or two individuals to attain success in their World Cup matches. Every single player on the pitch and even those on the bench played a significant role in steering Germany to victory. Other nations had far better players in their squads but no one had the team chemistry of the Germans.
Don't get me wrong – I'm still going to root for Brazilian team in the next World cup (… and the German team had a REALLY bad day on March 31st). But to succeed in research and innovation, we should not rely on individual efforts of companies and researchers. Sure, we need talent. We also need a machine – a system pushing our teams forward. Success will depend on the capacity and determination of our leaders to transform R&I systems and pursue a long-term strategy.
Innovation for impact, same as football, is also about teamwork. Let's hope that our coordinated efforts will lead to a better integrated European Research Area, a more resilient, digital, healthy, greener and fair future of Europe.
Read / watch more: